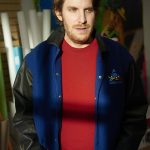 Cory ARCANGEL
Cory Arcangel (born 1978, Buffalo, NY) is an artist and composer living and working in Stavanger, Norway. Arcangel explores the potential and failures of old and new technologies, highlighting their obsolescence, humor, aesthetic attributes and, at times, eerie influence in contemporary life. Applying a semi-archeological methodology, his practice explores, encodes, and hacks the structural language of video games, software, social media and machine learning, treating them as subject matter and medium.
His work has been exhibited in solo exhibitions at the Kunstverein in Hamburg, Hamburg; Whitney Museum, New York and Carnegie Museum of Art, Pittsburgh etc.
Cory Arcangel. Photography: Tim Barber.